ROSTER FINALIZED FOR MATCHUPS AGAINST PLYMOUTH STATE AND UMASS BOSTON
BOSTON, MA -- The Eastern Hockey League (EHL) is pleased to announce that this year's All-Star festivities have doubled in size. Last season, Team EHL took on the Umass Boston Beacons in the first ever meeting between the league and an NCAA program. Led by a combined 56 saves from Nolan Egbert (Boston Jr. Rangers) and Michael Paglucca (New Hampshire Avalanche), the group of EHL All-Stars represented the league tremendously well in a 3-2 exhibition loss. This year, the EHL will be facing-off with UMass Boston once again, but that will be the day following a matchup with Plymouth State University.
Exhibition Game #1 - Team EHL vs. Plymouth State - October 19th (4:00PM) - WATCH LIVE
Exhibition Game #2 - Team EHL vs. UMass Boston - October 20th (4:00PM) - WATCH LIVE
"This is going to be a great weekend for our league," said Mark Kumpel, the EHL's Director of Hockey Operations. "Coach Russell [Plymouth State] spoke to us very shortly after we played UMass Boston last season, and he made it clear that he wanted to set up a similar exhibition with his program. The experience from the weekend is going to be second-to-none for our league."
COACHES
HEAD COACH - Chris Cerrella (New Hampshire Avalanche)
ASSISTANT COACH - Rich DeCaprio (Boston Jr. Rangers)
ASSISTANT COACH - Mark Catron (Philadelphia Little Flyers)
GOALTENDING COACH - Bill Zaniboni (Seahawks Hockey Club)
FORWARDS
Jake Adkins (New Hampshire Avalanche)
Hunter Bersani (Wilkes-Barre/Scranton Knights)
John Grealish (Boston Jr. Rangers)
Tao Ishizuka (Valley Jr. Warriors)
Wiggle Kerbrat (New Hampshire Avalanche)
Jack Lane (New Jersey 87's)
Dominiks Marcinkevics (New England Wolves)
Justin Meers (Philadelphia Revolution)
Larry Niland (Walpole Express)
August Nyblom (Connecticut RoughRiders)
Trent Pitser (East Coast Wizards)
Glynn Robitaille (Vermont Lumberjacks)
DEFENSEMEN
John Banovetz (Seahawks Hockey Club)
Connor Boyce (Connecticut RoughRiders)
Nick Daluisio (Philadelphia Little Flyers)
Kyler Harding (New Hampshire Avalanche)
Niks Krollis (New Hampshire Avalanche)
Ryan Lieth (New York Applecore)
Zikmund Mroz (Philadelphia Little Flyers)
Luke Pepin (East Coast Wizards)
GOALTENDERS
Brendahn Brawley (Philadelphia Little Flyers)
Aiden Curry (Boston Jr. Rangers)
Rian Stewart (Connecticut RoughRiders)
ALTERNATES
FORWARD - Trevor Veneklase (Seahawks Hockey Club)
DEFENSEMAN - Cory Doney (Vermont Lumberjacks)
GOALTENDER - Logan Kramsky (Philadelphia Revolution)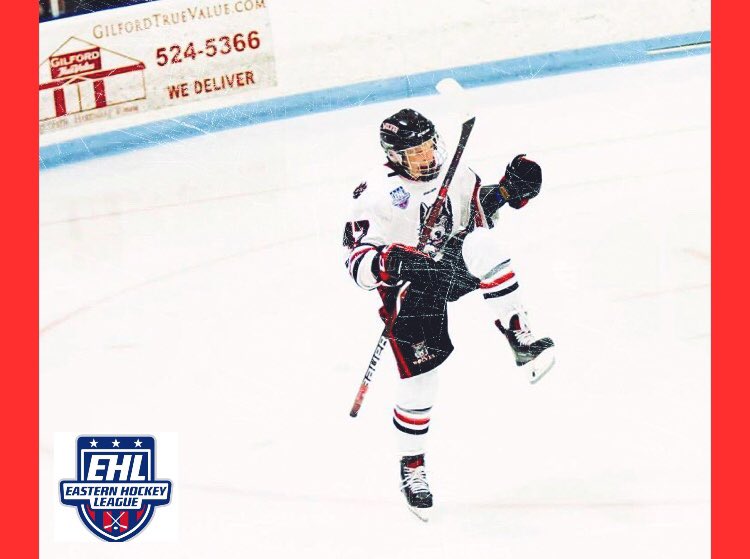 Dominik Marcinkevics- 2001 Forward New England Wolves